M&Co is a family business and our values are based on fairness and equality. We are committed to ensuring that all of our employees are given a fair chance to fulfil their potential, without discrimination or prejudice.
Gender Pay Gap legislation requires all companies with 250 or more workers to publish statutory calculations every year showing the size of the pay gap between their male and female employees.
An analysis of our hourly pay rates has shown that the male median average pay is 10.4% higher than the female median average. The mean average male pay is 44.0% higher than mean average female pay, a reduction on the previous year's figure of 47.5%. This gap is driven by the way the measure is calculated, rather than giving a true reflection of pay equality in the company.
The table below sets out the Gender Pay calculation for different parts of our business and compares to the previous year. In each individual area the gap is significantly smaller than the company total. The 2 areas of greatest variance are within the Senior Leadership Team (SLT), where females are paid on average more than males, and conversely in the Board where the average male is paid more.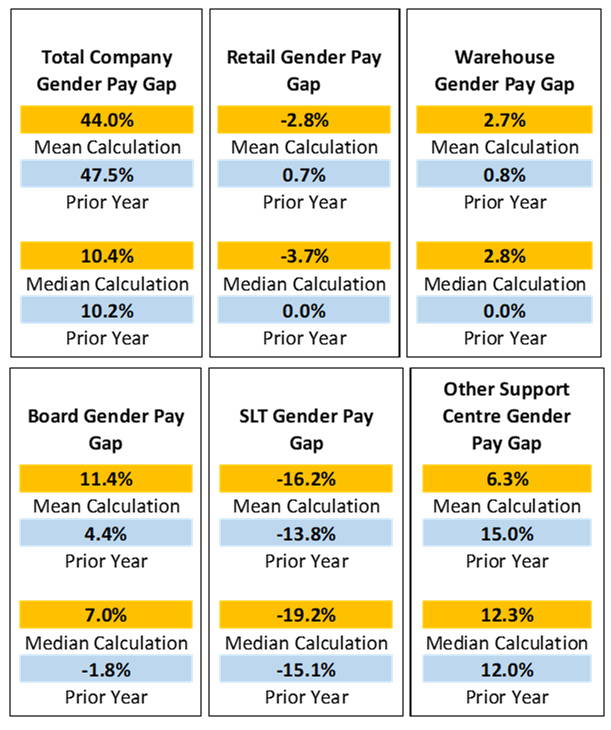 In line with many similar fashion retail companies, the gender pay gap is heavily-influenced by the fact that our stores are staffed by a predominantly female workforce. The majority of our employees (88%) work in stores, where pay rates are typically lower.
Female employees make up 97% of our store workforce which skews the overall female staff mean and median pay downwards. Males make up 6% of the workforce with a high percentage in traditionally higher paid support office roles which skews the mean and median pay of male staff to the higher end of the pay scale.
We are confident that women and men are paid equally for doing the equivalent jobs across our business.
We have a number of initiatives across the company that give opportunities for all colleagues to develop their careers at M&Co and we are firmly focused on ensuring that our culture and working environment supports our ambition of being a great place to work. This is reflected in our recent placing as the Sunday Times 17th Best Big Company to Work for in 2019, based on feedback from our employees.
To read our full statement click here.